Tunisia is one of the biggest tourist destinations in the Mediterranean. Tunisia boasts lots of hotels every different category, skilfully combining great facilities and Tunisian architecture. There are also lots of guesthouses and rural farmhouses throughout the country.
Resorts, clubs, resorts and aparthotels
Grouped together in the main seaside resorts, a wide range of hotels can be found all along the coast. Outdoor and indoor pools, activities for children, games and sports, thalasso centres and spas, horse-riding classes and catamaran lessons… some are resorts in their own right, offering a whole host of leisure activities. Even in the south of the Sahara, some hotels have entertainment and facilities for an all-inclusive experience. And if you're looking for a bit more independence and an apartment combined with all the comforts that hotels have to offer, choose an aparthotel: there are lots to choose from, especially near the main harbours.
Luxury and business hotels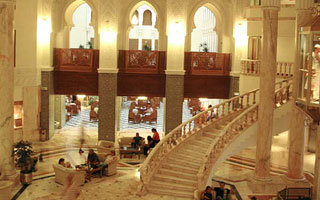 In Tunisia's main towns and cities, you can stay in a business hotel or a luxurious palace. A number of international and local companies offer fantastic options: multiple à la carte restaurants, cutting-edge equipment and every mod con… For a more decadent experience, choose a luxury 1920s hotel.
Guesthouses, rural farmhouses and charming hotels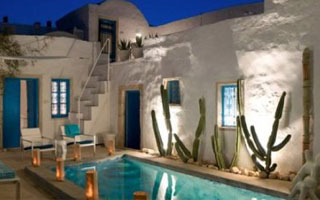 Choose between a hotel resort on the edge of the forest, or a farm that has been converted into a comfortable rural farmhouse. Take your pick between a charming hotel in the old town, a troglodyte house that has been transformed into a hotel, or an idyllic villa in the heart of a palm grove. And then there are guesthouses, which are cropping up all over the place, in the heart of medinas and in the middle of the Sahara. Not forgetting the camps in the middle of the sand dunes. From the simplest accommodation to the most luxurious, a great way to experience life in the desert.