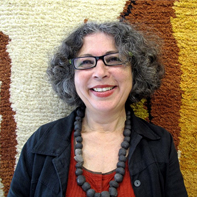 Sadika Keskes studied at the Institute of Fine Arts in Tunis and studied to be a master glassmaker in Murano, near Venice. When she returned from Italy, she dedicated her life to bringing back blown glass in Tunisia, an activity that had been abandoned since the 14th century.
In 1984, she built her first furnace. Her pieces enjoyed immediate success due to the diversity of the different shapes and colours she used. Steeped in the rich heritage of her ancestors, Sadika has carried out extensive research that has allowed her to bring back Punic glass techniques to her workshop.
In 1993, Sadika set up her first glass blowing company in Gammarth. Surrounded by the glass blowers that she has trained, she opened her workshop up to connoisseurs, people with a passion for ceramics and glass blowing and members of the public from all backgrounds who come to admire her decorative glass pieces.