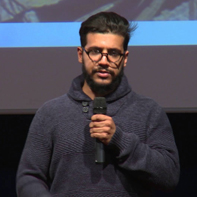 Mohamed Kilani Tbib, born in 1990, is a Tunisian graphic artist and calligrapher, working under the name of Inkman.
From a very young age, he was interested in poetry and had a need to express his love for humanity and vision of tolerance on paper.
Originally from the Gabès region in the south of Tunisia, the artist travels constantly and leaves a remarkable imprint of each and every one of his travels.
In 2014 he took part in Djerbahood, a project that involved transforming the village of Erriadh on the island of Djerba into an open-air museum. One of a hundred or so artists, including more than 30 different nationalities, Inkman's work was a real hit.
With INKMAN, an anxious artist, on a constant quest, "calligraffiti" becomes a universal language, encouraging you to see the beauty in life, and understood by anyone as a testimony to the success that he has enjoyed with any of his projects abroad in the Middle East and in Europe.