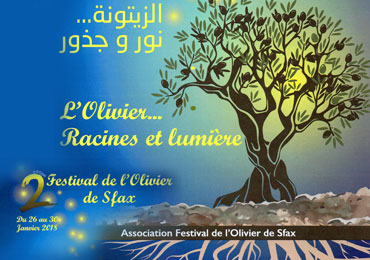 Date:
Friday, January 26, 2018

to

Tuesday, January 30, 2018
Tunisia's exceptional Mediterranean weather offers the country a diversity of an abundance of unique flora and fauna from the far north to the deep South. One of the magical places is Sfax which is distingued by its olive trees and its magical green scenery.
An enchanting event and dedicated gathering will celebrate the olive tree and its virtues will take place in Sfax from January 26th to January 30th 2018.
The first edition of this event featured Sfax's position as the olive oil leader in Tunisia. A variety of activities is planned this year. More than 100000 visitors are expected during the 5 days-festival. 9 shows will also take place, 5 in Sfax and 4 in the Bichka domain. Local music bands, horse riders and dancers will be part of the shows.
Different circuits will highlight the importance of ecotourism and agritourism in the region. Among them; a circuit in the Sfax Medina and a circuit in the Kerkennah islands that will not only show the beauty of the region, but also its economic potential.
A colorful market will charm the visitors by its authentic local products market, a craftsman's market and a gallery dedicated to olive. A highly enthusiastic horse race around the olive trees will add a thrill flavor to the festival.
Truly engaging and interactive experience is waiting for you to immerse yourself in real and authentic history roots of the olive tree and its virtue in Tunisia.
For more information: www.sfax-festivaldelolivier.tn
Contact :festivaldelolivierdessfax@gmail.com – Tel : + (216) 28 600 004