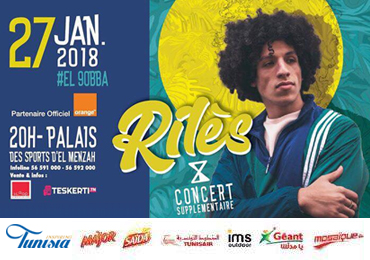 Date:
Saturday, January 27, 2018
Rilès, the new rap sensation comes back to Tunisia after his successful concert last December.
Fans were so glad to see their idol in Tunisia that they asked for more! Rilès comes back on January 27, 2018 for a bigger event in the Sports Hall. Fans from Tunisia and outside of Tunisia are expected.
Rilès is only 22 years old but he already seduced millions of fans around the world with successful songs like "Brothers" and "I Do It". Not only that, but he also gives a great show with an original choreography inspired by the Capoeira; a martial art fast and versatile that perfectly combines dance, music and acrobatics.
The French singer, songwriter and composer is self-taught and his music is about youth's emotions and struggles. Young fans all around the world follow him on his YouTube channel, where he posts his songs and his thoughts inspired from American rappers such as Kanye West.
To the delight of young Tunisians, the rapper comes back for a bigger concert and a show that will be memorable!