It's time to tee off on challenging golf courses in the Mediterranean
If you're looking for golf inspiration, your search is over. With some of the best beaches and resorts in the Mediterranean, year round sun and lush emerald green golf courses, a golf getaway or leisure trip in Tunisia is an incredible experience that has to be ticked off every golfer's score card.
Enjoy new exotic challenges
Whatever your handicap, you'll enjoy exotic new challenges while you admire the stunning rolling links with their magnificent views of the sparkling blue Mediterranean sea. You can relax in the clubhouse bar, swapping tips with other players over a well deserved drink, and in the well-equipped pro shops you can hire any gear you need, plus with friendly caddies who know the courses like the backs of their hands, you'll be set for a great golfing experience.
Proximity and comfort
These superbly landscaped links are only a short drive from a tempting choice of both luxury and all inclusive resorts, although at the hotels with golf courses you can almost step straight onto the green. All with the added bonus of golf-friendly concierges who'll arrange all your tee-off times and transfers.
Luxury golfing holidays
As soon as you drop off your clubs at your beautiful hotel, you'll realise that Tunisia goes beyond world-class golf courses and luxury golfing holidays. Before or after playing a round, you can enjoy the delights of a luxury spa, be tempted by every watersport under the sun or simply relax in the sunshine on some of the best beaches in the Mediterranean.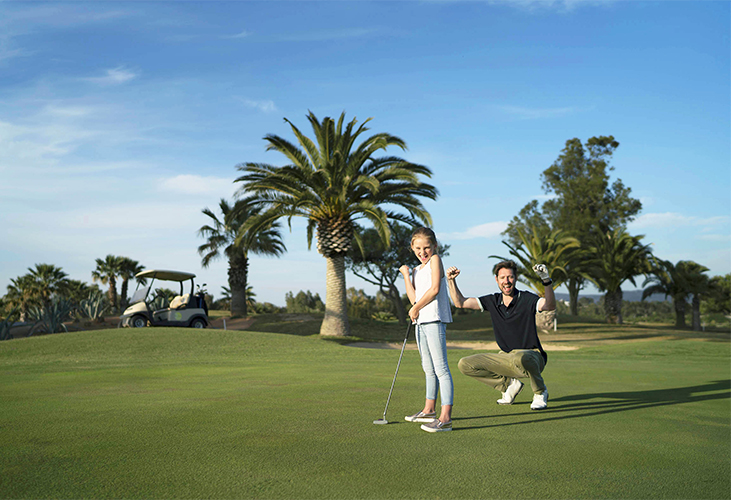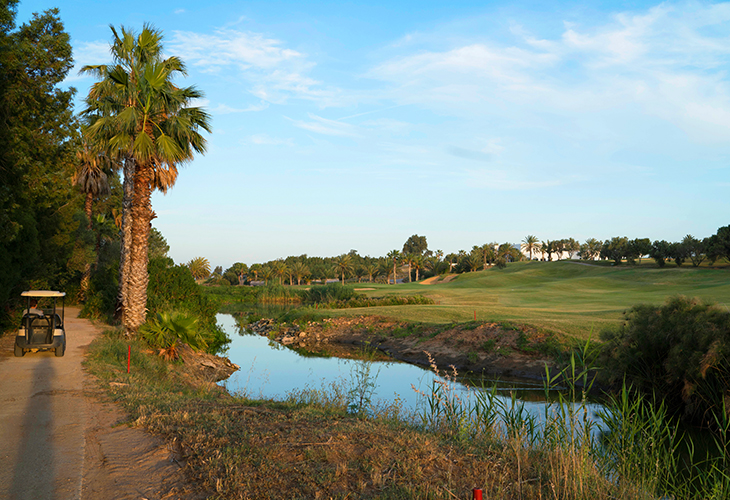 Enjoy the great weather
On your golfing vacation, you're almost guaranteed to wake up to brilliant sunshine, as the Tunisian weather offers year round play. But Tunisia offers a lot more than just great golf. Even the most dedicated players will find travelling back in time to explore ancient Roman ruins, spending the night under the stars in a luxury Bedouin tent or silently floating over the Sahara in a hot air balloon ride irresistible.
Golf Holiday
For a last minute break, golf vacation package or a well-organised group golf holiday, now is the time to book an unforgettable golf holiday in Tunisia. You'll find the choice of courses, all inclusive resorts, boutique hotels and luxury spas is second to none.
Discover Tunisia's golf courses
Tabarka Golf Course, Tabarka
Ideally located between the sea and the forest, this stunning cliff top club is considered to be one of the best. This varied 18-hole golf course which hosted the Kelly Classic offers both parkland and some links-style holes.
The Residence Golf Course, Gammarth
Designed by Robert Trent Jones II, this is one of the most beautiful and challenging 18-hole golf courses in the Mediterranean. Set in the heart of a nature reserve, its intricate fairways wind through changing scenery and water obstacles.
Carthage Golf Course
Founded in 1927, this compact 18-hole course was renovated in 1991 to offer a mixture of short par 3 and 4 holes with fairways that meander amongst shady eucalyptus trees and well-kept greens. And it's just 20 minutes away from "The Residence" course.
Citrus Golf Course, Hammamet
Making full use of the landscape from undulating olive groves to steep forest hills, and ideal for players of all levels, this 45-hole Ronald Fream design winds around seven beautiful lakes.
Yasmine Golf Course, Hammamet
Opened in 1991, this championship 18-hole golf course, also designed by Ronald Fream is characteristic of his unique style. It boasts large greens, well-positioned bunkers, a creative use of water obstacles and a superb clubhouse.
Kantaoui Golf Course, Port El Kantaoui
Home to the PGA tournament and located between the sea and the distant mountains, this golf course has a well-deserved reputation. Its two 18-hole courses with white sand bunkers and artificial lakes, offer gorgeous fairways framed by centuries old olive trees.
Golf Palm Links, Monastir
This championship, Scottish links-style Chris Pitman golf course offers more than cooling sea breezes. Not far from the resort of Skanes, this 18-hole course features many hazards, including 73 bunkers, four lakes, palm trees and natural obstacles.
Flamingo Golf Course, Monastir
With 360° views and a beachside setting overlooking Monastir estuary, the tees, greens and well sloped fairways of this par 72, 18-hole championship golf course are amongst the finest in Tunisia.
Djerba Golf Club, Djerba Island
Great weather, an idyllic location and three 9-hole courses makes this golf club a real must. British architect Martin Hawtree has cleverly combined three 9-hole courses, so that golfers of all abilities can play different 18-hole courses.
Golf Oasis, Tozeur
As rugged and exciting as its magnificent desert setting, this Ronald Fream-designed 18-hole, par 72 course is one of the most beautiful you'll ever play. And with deep ravines, rocky outcrops and three lakes, one of the most challenging.