It's time to enjoy a family holiday to Tunisia
Precious memories are created on family holidays, so the destination you pick for your special trip away has to work for everyone, from toddlers to grandparents. Tunisia has all the ingredients to keep the whole family entertained, from wild waterparks and memorable kids' clubs for children, to elegant golf courses and relaxing spas for the older generation.
Tunisia is a wonderful place to bring a family, whether young or old. All inclusive family resorts ensure that all members of the family feel cared for and looked after. If you feel like a day out, kids' clubs staffed by friendly professionals reassure parents that their young ones are being well looked after, while close access to beaches, cultural sights and shops means it's always easy to pop back and check on the little ones.
Many Tunisia holiday resorts have luxurious facilities within the hotel grounds, meaning that parents and grandparents can enjoy the spa, golf course or pool while the children play nearby at the kids' club. The kids' clubs in Tunisia are of an excellent standard, with children often being involved in an incredible array of locally-inspired activities, from Tunisian cooking lessons to sandcastle-building challenges.
If you'd prefer a day out with the children, there are countless family-friendly activities to enjoy: one of the most popular attractions with children is Carthageland. The Hammamet water park has rides and shows to keep the kids busy for hours, while there are sunbathing spots for parents to relax in while the children play.
Children and adults alike will adore the range of adventurous activities on offer in Tunisia: go-karting and crazy golf are a few options you might find at home, but there are some activities that are quintessentially Tunisian that you can do together too, creating incredible memories in the process. These include visiting the Star Wars sets, a must for fans of the franchise, and braving a camel ride.
When it comes to food, families don't need to worry about adapting the menus: all over the country, but especially in all inclusive family resorts, even the pickiest of eaters will find something to eat. Parents can enjoy local specialties, while the spiciness of Tunisian food can be toned down for children with an adventurous palate. Of course, if children (or indeed adults) are craving comfort food from home, have specific dietary requirements or have allergies, this is catered to by all Tunisia holiday resorts. Plus, after dinner, there's plenty of amusement for both children and adults, with many hotels putting on shows that vary from acrobatics to belly dancing.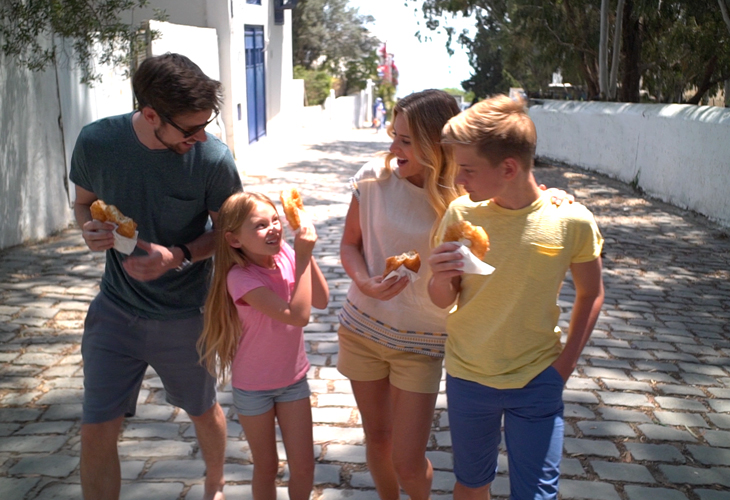 There is a wide range of all inclusive family resorts in Tunisia, meaning that even if you feel like a last minute holiday, you'll still find plenty of availability to suit all sorts of budgets. The glorious weather, range of family-friendly activities and sheer number of resorts expertly equipped to cater for family holidays means that all generations are guaranteed to have a blast.